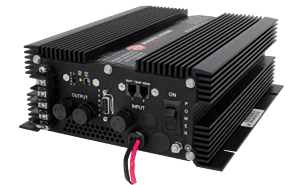 Common Negative or Fully Isolated DC to DC models to convert or regulate DC voltages from 12 to 400 volts IN to DC voltages from 12 to 72 (rail) volts OUT at power levels from 100 to 1500 watts. Models are available to step-up, step-down, stabilize or isolate DC power over a range of 12 to 360 volts. No matter which unit you need, these easy-to-install Voltage Converters will give you many years of reliable service.
Analytic Systems' modern DC/DC Voltage Converters use efficient filtering, allowing for ultra-quiet operation. In addition, our converters are:
Made from marine-grade aluminium extrusions or heavy-gauge aluminium sheet metal
Powder-coated or anodized, and use stainless fittings throughout
Fitted with robust circuit boards using expensive heavy-gauge copper conductors, designed by Analytic Systems' engineers and assembled in our plant
Analytic Systems manufactures two different kinds of DC-DC Voltage Converters.
The first is Common Negative, where the input and the output share the same ground. These do not typically use a transformer and are less expensive to build. Models are available to step-down (Buck), step up (Boost), or a combination of step down and step up (Buck-Boost).
The second is Isolated, where a high frequency transformer is used to provide electrical isolation between input and output. These are typically used where there are different grounds for the input and output voltages, or if there is a large difference between the input voltage and output voltage.
The VCH10 Step Down series of Voltage Converters supply up to 10 amps of output current at 12, 24, 36 or 48 volts from any higher voltage between 20 and 80 volts DC in an IP66 rated watertight and EMC shielded enclosure for use in rugged environments.
Step down VTC90, VTC140, VTC180, VTC240, VTC300 and VTC600 models from handle up to 100 VDC input, stepping down to 12 to 48VDC with power ranges 90 to 600 watts . Step up VTC305 and VTC605 models stabilize a 12V system, or step 12VDC up to 24 or 32VDC with power ranges of 300 to 600 watts. Buck­Boost models for 18 to 30VDC input to 24VDC output are available by request.
The VTI Series voltage converters are fully digital signal processor controlled and feature wide range input voltage from 70 to 350 VDC. The output voltage is easily adjusted over the available range using simple front panel controls.
The free to download "Power Wizard" software allows full programming and graphing/logging of various parameters including output voltage and current. 360 watt (peak power) models are available with 12, 24, 32, 36 or 48 VDC output.
Available in models from 300 watts to 1500 watts in both shelf and rack mount. Low input voltage VTC315, VTC615 and VTC1015 models handle input voltages from 24 to 72VDC. High input voltage VTC310, VTC610, VTC1000 and VTC1505 models handle input voltages from 100 to 400VDC. All models have output voltage ranges from 12 to 72 (rail) VDC. Bright easy to read LED voltage and current meters are an available option on most models.
Also available is a hybrid VTC120i model that features transformer isolated 12 or 14VDC Input and 5, 12 or 24VDC Output with a 5 amp (VTC120i) or 7 amp (VTC120ih) linear post-regulator for the lowest ripple and noise.