Other Products & Accessories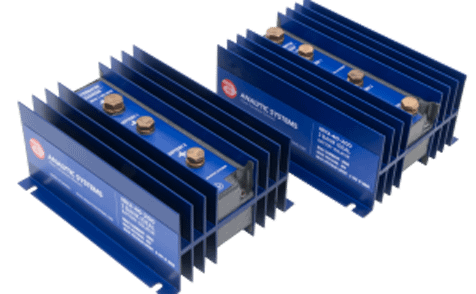 Analytic Systems carries a wide variety of complementary products and optional features including battery isolators, remote controls, digital displays and communications modules.
Contact sales with your specific requirements for these products
Analytic Systems introduces the IBI (Ideal Battery Isolator) for 2 bank and 3 bank battery systems, allowing all the batteries to be fully charged from a single alternator while maintaining electrical isolation between the battery banks.
Ideal Diode technology uses MosFet Transistors and control circuitry to replace the diode used in a traditional battery isolator and reduces the voltage drop across the isolator to a mere 160 millivolts at 200 Amps of charging current and essentially zero volts at low current, so all the power of the alternator is applied to the batteries ensuring a full recharge every time.
While the Ideal Battery Isolator is designed to be used with an alternator, it can also be used to convert a single bank battery charger to a 2 or 3 bank charger.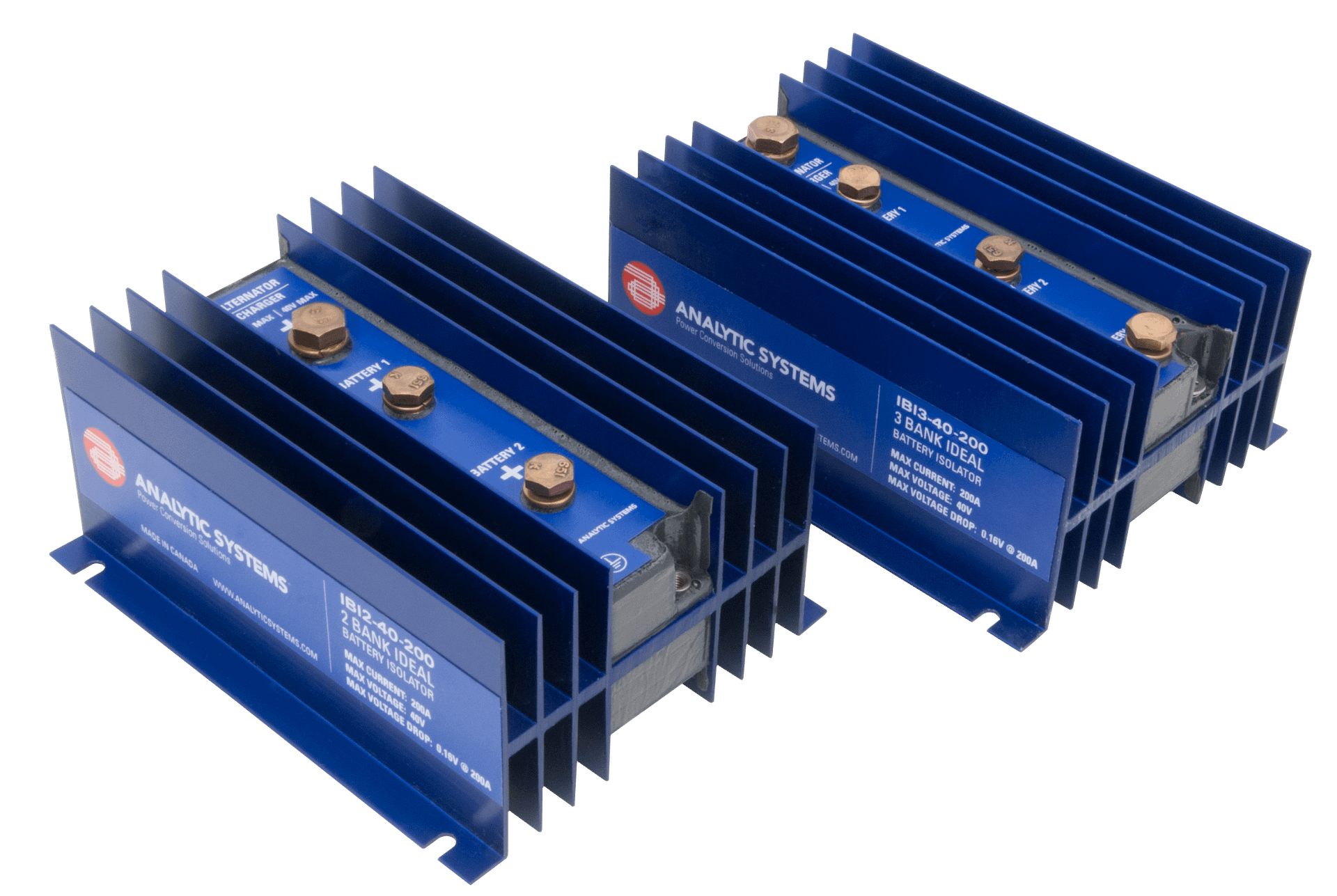 All circuitry sealed in epoxy for water resistance
The alternator can be directly wired to the batteries through the isolator
CNC machined connection points and bronze fasteners ensure low resistance connections
Internal high current busbar for optimal current distribution
Compatible with 12, 24, 28 and 32 volt battery systems
Can also be used with a single output battery charger
Extremely compact design saves space
Whether you produce electricity from Wind Turbines, Solar Panels or Small Scale Hydro Electric systems, the power needs to be stored in battery banks without wasting a watt.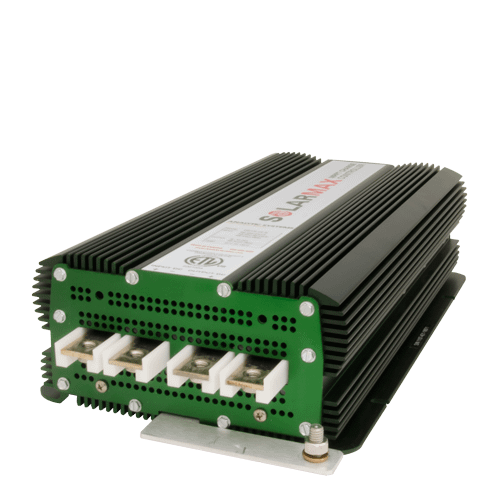 Analytic Systems' patented MPPT Charge Controllers handle open circuit input voltages to 200 Volts and pump out up to 100 amps into battery banks up to 48 VDC. A full line of high efficiency DC-AC Inverters and DC-DC Voltage Converters up to 3000 watts output allow the stored energy to be used for any desired purpose. Aluminum enclosures, stainless fasteners, conformal coated circuit boards and conservative components ensure long life and reliability.
The SMP100 SolarMax Charge Controller provides up to 100 amps of charging power into battery banks between 24 to 72 Volts from solar panel arrays up to 230 Volts Open Circuit. Our patented MPPT (Maximum Power Point Tracking) algorithm maximizes the power output of the solar array.
Solarmax allows you to use a higher voltage PV array than the batteries you are charging as it is designed to step down the array voltage, allowing greater flexibility in the choice of array for your system.
A PC communications port and software allow viewing and programming Solarmax parameters as well as data logging. A battery temperature sensor (supplied) allows programmable temperature compensation of charging voltage.
Some of our users require power conversion products that do not require the ruggedness that is built into each Analytic Systems product. So we have searched for the best of the best light duty products (usually produced in Asia) as a low cost alternative.
This solution provides our customers with a good unit at a very reasonable price. We have chosen a variety of the most popular products from inverters to dc/dc converters, power supplies and chargers but have a host of additional units available so we can offer them all at very competitive prices.
LIGHT DUTY BATTERY CHARGERS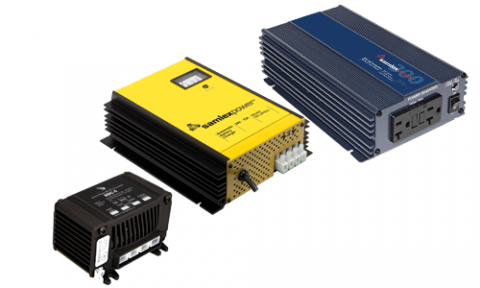 SEC-1215UL
SEC-1230UL
SEC-2415UL
LIGHT DUTY VOLTAGE CONVERTERS
SDC-5
SDC-12
SDC-15
SDC-23
SDC-30
LIGHT DUTY POWER SUPPLIES
SEC-1212
SEC-1223
SEC-1235M
LIGHT DUTY POWER INVERTERS
SAM-100-12
SAM-250-12
SAM-800-12
SAM-1000-12
SAM-2000-12
SAM-3000-12
PST-300-12
Remote Control allows on/off control and repeats the LEDs on many of our Power Supplies, Voltage Converters, Battery Chargers and Inverters.
Two Line bright LED Digital Volt/Ammeter is optional on most power supplies, voltage converters and battery chargers and standard on all rack mount products.
Our more powerful inverters cannot be internally fuse protected. Additionally, high power inverters and voltage converters should have fuse protection as close to the battery as possible to also protect the wiring between the battery and the device. Analytic Systems offers a water resistant fuseholder that mounts fuses up to 250 Amps to meet this requirement.
Contact sales with for more information about our FuseHolders