Delta, BC, November 2017 – 'Analytic Systems'  announced that The Silicon Review Magazine has named it among the '50 Best Companies to Watch In the Year 2017'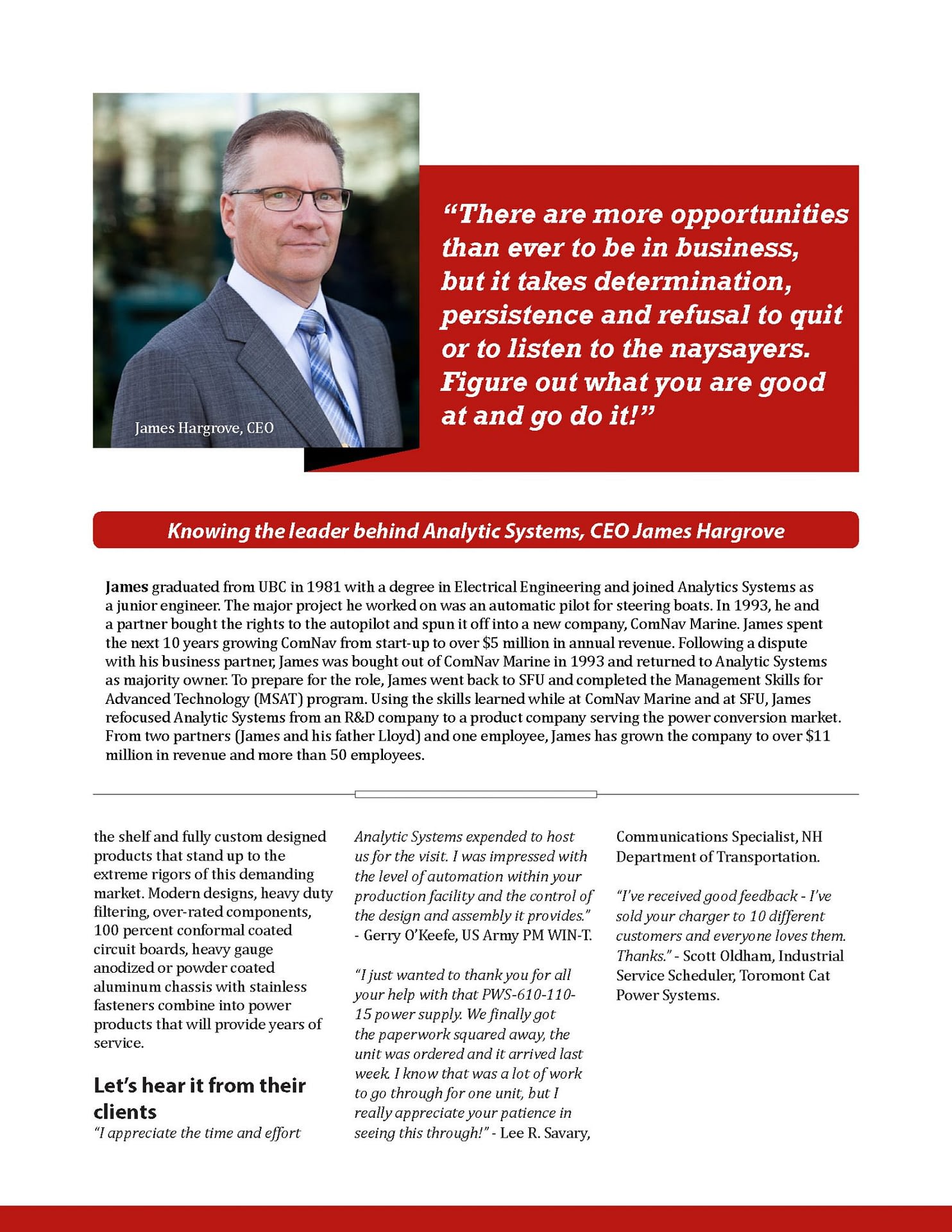 "The Silicon Review 50 Best Companies to Watch in the Year 2017 program identifies companies which are successful bringing more souvenirs to the IT and Business world than others, and winning a spot on this list indicates the company has distinguished itself from peers by proving itself more valuable in terms of service quality, vast customer base, and market position," said Sreshtha Banerjee, Editor-in-Chief of The Silicon Review Magazine. The publication has selected 'Analytic Systems' based on its customer retention health, product/service innovation, financial status, and the ability to overcome uncertainties.
"We are honored to be recognized by The Silicon Review Magazine as the one of the 50Best Companies to Watch in the Year 2017," said 'James Hargrove,P.Eng., 'CEO' at 'Analytic Systems'. "We plan to continue the digital revolution, in terms of more products that are digitally controlled, to continue to increase the power density – more power, less space."
About 'Analytic Systems
Analytic Systems is a high performance power conversion products manufacturer/distributor for mainly Military, Marine, Industrial, Alternative Energy, Transportation and Telecom markets.
Everyone needs power and we help make power usable. We design and build a range of products including Battery Chargers, Voltage Converters, Inverters, Power Supplies, Frequency Converters and MPPT Solar Charge Controllers. We are dedicated to the lean manufacturing process to improve customer service, delivery and profitability.
In the area of power conversion products, we are regarded as one of the most versatile and responsive designers in the industry.  We have access to some of the most gifted designers of electronic circuitry at Analytic Systems, and we strive to provide them with a platform to push their creative abilities and engineering expertise to develop new cutting-edge technology.
All of our products are manufactured in our own ISO9001 certified, modern facilities. Featuring the latest automated Surface Mount Technology, CNC conformal coating and transformer manufacturing. All of our facilities are Controlled Goods Directorate certified for security. Products are designed to meet or exceed many international testing standards including CSA, UL, ABS, CE, MIL461 and MIL810.
Contact Information:
Analytic Systems
8128 River Way
Delta, BC  V4G1K5
Tel: 604.946.9981
marketing@analyticsystems.com